Written by: Marlene Osteen | Problem: March-2022
The arrival of Chef Craig Richards at The Farm at Old Edwards on April 14 heralds fresh spring vitality and deeply satisfying indulgence. Visit OldEdwardsHospitality.com for information and reservations.
---
LnRiLWNvbnRhaW5lcltkYXRhLXRvb2xzZXQtYmxvY2tzLWNvbnRhaW5lcj0iMGQxNDkzYzBjZWM1YzQyMmRiMzNlOTc2NmZjYTFmZDciXSB7IHBhZGRpbmc6IDEwcHggNDBweCAxMHB4IDQwcHg7IH0gLnRiLWNvbnRhaW5lcltkYXRhLXRvb2xzZXQtYmxvY2tzLWNvbnRhaW5lcj0iZWQzODMyYWE2MjAxY2JlYzViMWU1YjkwMmRjMDY3ZTIiXSB7IHBhZGRpbmc6IDI1cHg7IH0gLnRiLWJ1dHRvbltkYXRhLXRvb2xzZXQtYmxvY2tzLWJ1dHRvbj0iZTVkMGMwYWZjZWM1ZWRiOTA5MWEwMGU3Zjc2ZmJjODkiXSAudGItYnV0dG9uX19saW5rIHsgYmFja2dyb3VuZC1jb2xvcjogcmdiYSggMTU5LCA4MiwgNTcsIDEgKTtib3JkZXItcmFkaXVzOiAwO2NvbG9yOiByZ2JhKCAyNTUsIDI1NSwgMjU1LCAxICk7Zm9udC1zaXplOiAxMnB4O2xpbmUtaGVpZ2h0OiAxMHB4O3RleHQtdHJhbnNmb3JtOiB1cHBlcmNhc2U7Y29sb3I6IHJnYmEoIDI1NSwgMjU1LCAyNTUsIDEgKTsgfSAudGItYnV0dG9uW2RhdGEtdG9vbHNldC1ibG9ja3MtYnV0dG9uPSJlNWQwYzBhZmNlYzVlZGI5MDkxYTAwZTdmNzZmYmM4OSJdIC50Yi1idXR0b25fX2ljb24geyBmb250LWZhbWlseTogZGFzaGljb25zO21hcmdpbi1yaWdodDogNXB4OyB9IC50Yi1idXR0b25bZGF0YS10b29sc2V0LWJsb2Nrcy1idXR0b249ImU1ZDBjMGFmY2VjNWVkYjkwOTFhMDBlN2Y3NmZiYzg5Il0gLnRiLWJ1dHRvbl9faWNvbjo6YmVmb3JlIHsgY29udGVudDogJ1xmNTA4JzsgfSAudGItZmllbGRbZGF0YS10b29sc2V0LWJsb2Nrcy1maWVsZD0iZTk1NDE4ZjgxYmZmMjFjMzQ1OTZkYjY2MjhmNDVlYjIiXSBhIHsgdGV4dC1kZWNvcmF0aW9uOiBub25lOyB9ICBbZGF0YS10b29sc2V0LWJsb2Nrcy1pbWFnZT0iZjI5MTJiODMzZDM1MjEzYmNiOGM3MzhlZGMwZjU5ZTciXSB7IG1heC13aWR0aDogMTAwJTsgfSAudGItZmllbGRzLWFuZC10ZXh0W2RhdGEtdG9vbHNldC1ibG9ja3MtZmllbGRzLWFuZC10ZXh0PSI4YmFhZjBmOTZlZGYzMzJkZTg4MmRmZDIzNDVkZjYzMiJdIHsgbWFyZ2luLXRvcDogMDtwYWRkaW5nLXRvcDogMDsgfSBAbWVkaWEgb25seSBzY3JlZW4gYW5kIChtYXgtd2lkdGg6IDc4MXB4KSB7IC50Yi1maWVsZFtkYXRhLXRvb2xzZXQtYmxvY2tzLWZpZWxkPSJlOTU0MThmODFiZmYyMWMzNDU5NmRiNjYyOGY0NWViMiJdIGEgeyB0ZXh0LWRlY29yYXRpb246IG5vbmU7IH0gICB9IEBtZWRpYSBvbmx5IHNjcmVlbiBhbmQgKG1heC13aWR0aDogNTk5cHgpIHsgLnRiLWZpZWxkW2RhdGEtdG9vbHNldC1ibG9ja3MtZmllbGQ9ImU5NTQxOGY4MWJmZjIxYzM0NTk2ZGI2NjI4ZjQ1ZWIyIl0gYSB7IHRleHQtZGVjb3JhdGlvbjogbm9uZTsgfSAgIH0g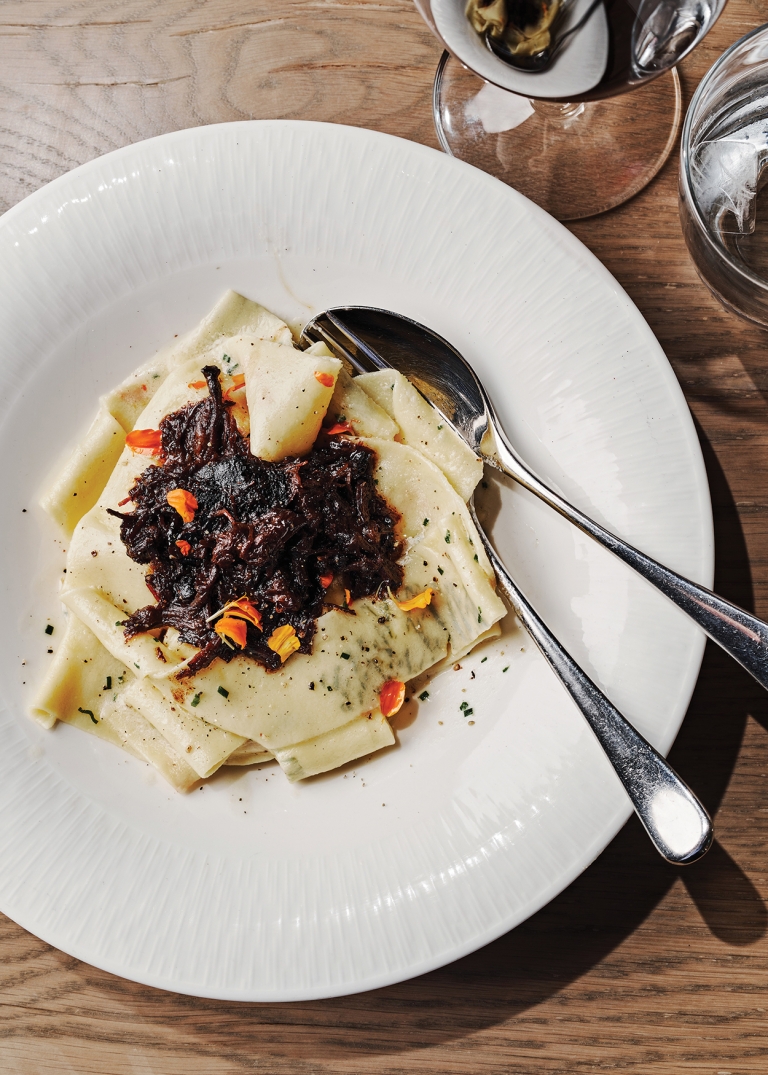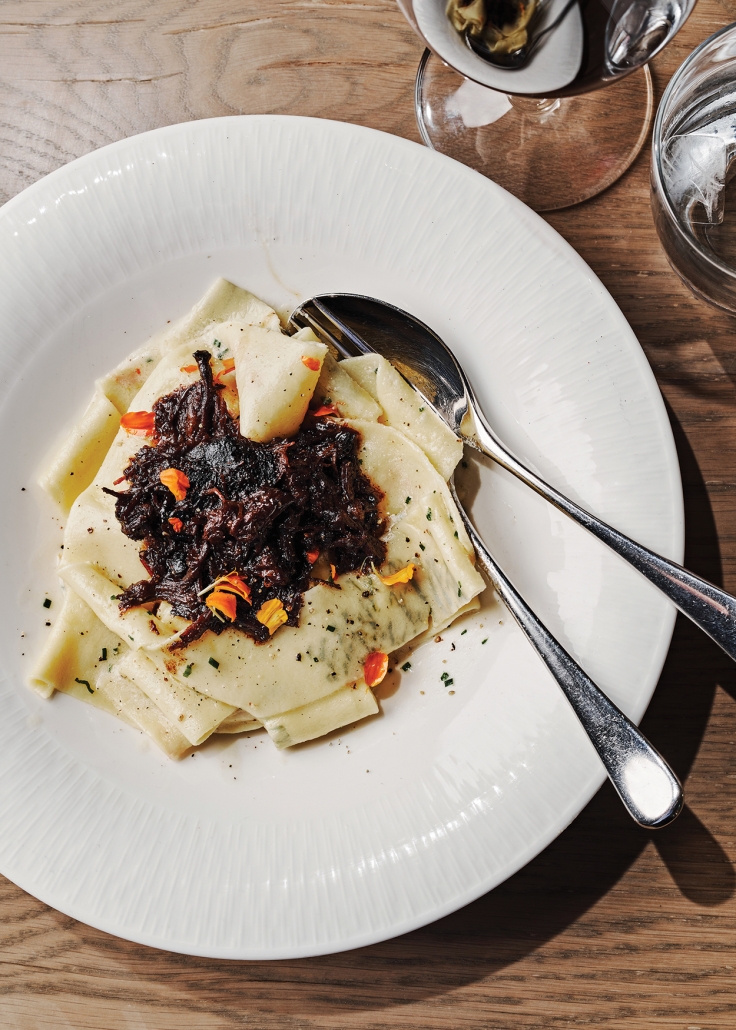 In the field of impressive career starts, few can match the triumph of Atlanta chef Craig Richards.
Two years after discovering his passion for cooking ("I couldn't believe how much fun it was and you got paid for it!"), Richards landed an apprenticeship with the acting ambassador of Italian cuisine – Lidia Bastianich.
He spent the next five years behind the herds of Bastianich's restaurant empire in Kansas City and Pittsburgh – "big stepping stones in my career". Ultimately, this training led to management positions in well-known kitchens in Atlanta and in 2019 the opening of his own restaurant in that city – Lyla Lila.
On Thursday April 14, Richards will create a menu of his southern Mediterranean-focused cuisine for an "Italian-inspired spring evening" at The Farm at Old Edwards. The spring celebration includes Easter traditions from Italy and live music.
Richards is clearly delighted with the freshness and vitality of the culinary techniques he discovered during his travels to Italy and his mentorship with Bastianich. These experiences opened his eyes to the breadth and regionality of Italian cuisine – the cuisine he describes as "honest".
And it has encouraged him to spend the last 15 years mastering the craft of pasta making. With the opening of Lyla Lilia, Richards has created a space that pays tribute to those experiences and is "a personal expression of who I am and who I am as a chef."
Though details of Spring Fling's dinner menu are yet to be released, diners can expect one of five dishes that define the "Italian Spirit" behind the menu at Richards' restaurant and showcase his enthusiasm for Italy: Seasonal Crudités with Olive Aioli showcase the beauty and flavor of the products; cold-smoked scallops with smoky-spicy green harissa; Chicken liver and sweet potato ravioli with fried pine nuts and tarragon; spaghetti and prawns with pork stew and bottarga; or fish grilled on wood. In a recent review, Forbes Magazine raved about the menu, calling the dishes "hedonistic" and proclaiming the pasta "pillow fresh." And as the magazine concluded, "No matter what's in season, you'll enjoy Richards' creativity and mastery of flavor and texture."
The cost is $175 per person plus tax and tip. Please note that the event is for guests aged 21 and over. This is just one of a fabulous array of other chefs visiting Highlands this year. Check accommodation (not included in ticket price) and availability below OldEdwardsHospitality.com.