Restaurant News wishes all readers a Happy New Year. Many of us see the beginning of the year as an opportunity for improvement. Lists include eating healthy and/or adopting a new diet and exercise regimen, regular visits to the gym, and more. All seem perfectly reachable in the early hours of January 1st, 2022.
No matter what our resolutions, many of us have strayed from the proverbial plan and our best intentions have fallen by the wayside. I gave in to temptation. Let's face it, 2022 doesn't seem to be going to be a fun year.
Current trends in health-related articles are saying, "It's time to get off the diet train."
So let's look at the choices in our local restaurants that support our health and create happy vibrations in our taste buds.
Mediterranean food is always at the top of the list of great-tasting foods without sacrificing taste, texture and visual appeal. The advice to eat a rainbow is realized on the list of appetizers in Greek and other establishments with similar cuisine.
Restaurant News was recently alerted to one Lynnwood establishment that for some reason was overlooked in our previous reviews: gyro joy, is located at 4029 196th St. SW in Lynnwood.
There are healthy choices on the menu.
Our first dish was a portion of Avgolemono soup, which literally means "egg lemon". This soup is made with egg yolks and lemon juice mixed with broth and heated until thick. It can be found in Greek, Arabic, Turkish, Balkan and Jewish-Italian cuisine.
With Gyro Delight, the lemony citrus soup contains tender arborio rice grains.
We opted for a large Greek salad accompanied by some toasted flatbread triangles. Fresh vegetables, tomatoes, olives and thinly sliced ​​red onions have been dressed in a flavorful blend of Evo, vinegar and herbs. Finely grated feta cheese rounded off the dressing on the salad. My husband, who makes much of our dressing from scratch at home, spooned out every last bit, which is kudos.
My husband also doesn't happen to be a meat eater and his sandwich was a vegetarian dish. He really enjoyed his gyros with falafel. Appreciation for the tender filling, slightly crispy outsides of good falafel. Lots of fresh vegetables were wrapped in the tender pita and plenty of tzatziki sauce made it disappear quickly.
Two souvlaki to choose from completed our order. Select versions were chicken and premium lamb. In both cases, the generous cuts of meat were flavorful, tender, and plentiful enough that the price per sandwich was a steal. Both sandwiches had lots of fresh veggies and tzatziki sauce.
And of course dessert had to be ordered. I heard the baklava comes in two flavors, one of which is completely covered in dark chocolate. Both were flavorful and the chocolate coating sealed in plenty of flavor without sacrificing the crunchy texture. In a nod to healthier eating, I limited myself to a slice of each to share with the rest of my family.
Here is a short list of other places that offer Mediterranean cuisine in our area. Use the search bar on our website to find reviews of these establishments.
(Readers: Please don't hesitate to share additional spots in the comments section if we've missed your favorites.)
Fork Mediterranean Grill, 21919 66th Ave. W. Ste. G, Mountlake Terrace: www.forkgrill.com
Caravan Kebab, 9711 Firdale Ave. 50 Ste, Edmonds: www.caravankebab.com (Attention to readers still sticking to their plans – Caravan Kebab is currently offering guests dessert…on the house!)
Epulo Bistro, Sunset 190, Ste. B, in Edmonds: www.epulobistro.com
Aleppo Kitchen, 6815 196th St. SW Ste G, Lynnwood: www.aleppokitchenseattle.com
Gyro Crush, 16911 Hwy 99, Ste 103, Lynnwood: gyro-crush-mediterranean-kitchen.business.site
Demetris Woodstone Taverna, 101 Main St., Edmonds: www.demetriswoodstonetaverna.com
Kafe Neo, 21108 Hwy 99, Edmonds: www.kafeneo.net
— By Kathy Passage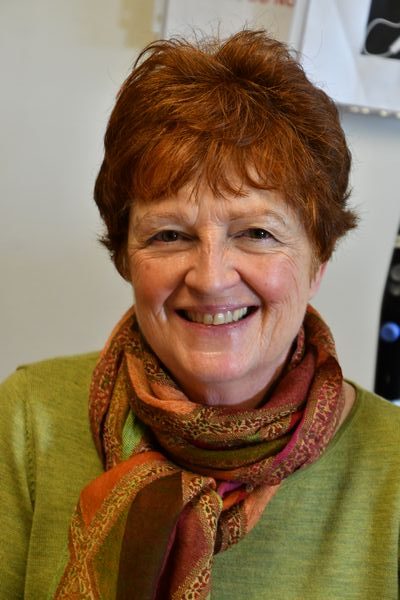 A gourmet specialtyKathy Passage has been a food broker for over 30 years and has an in depth knowledge of food and the special qualities of the ingredients used in the exquisite products she has brought to market. Kathy brings this unique "other side of the plate" perspective to write about the food and restaurant scenes in Edmonds, Lynnwood and Mountlake Terrace.